This type of solution is most often used when the patient still has several healthy teeth, but misses teeth in the lateral region and, in case he/she, for any reason, does not want to have implants.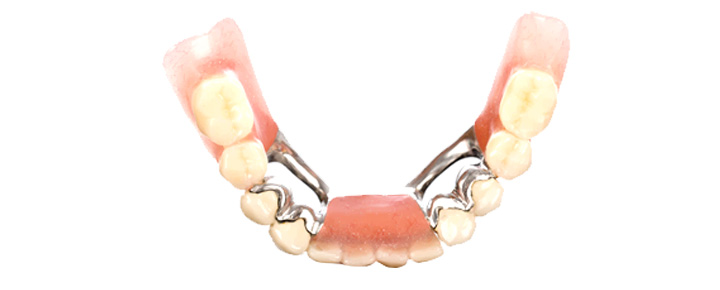 The front teeth are often (but not always) "coated" in a ceramic bridge whose ends contain special junctures for fixing the removable part of the denture. This solution ensures that the removable part adheres closely to the other teeth, and that the teeth can be cleaned easily. We can conclude that the advantages of this solution are:
- functionality: correct chewing is restored on the level of the entire jaw, as well as the opening and closing of the jaw and proper phonetics;
- comfort: it is made of non-toxic materials without sharp edges that could damage the surrounding tissue;
- aesthetics: ceramic crowns have a very aesthetic appearance, are very similar to the other teeth, and contain no hooks or metal parts;
- hygiene: simple maintenance and care;
- short duration of the treatment procedure.
Learn more about implant dentistry and materials.
Learn more about bruxism (grinding of teeth).
Learn more about disinfection and sterilisation.
Schedule a first visit free of charge now: 051688380 (8 am - 8 pm)